Bellenden Road Arches
We are fully set up. Setting up a studio in London is an expensive process. Becoming a member of The Kiln Rooms saves money and provides flexibility. We provide all of the equipment and tools necessary for just about any form of ceramics and boast large working areas with professional workstations for all members. Setting us apart from other studios is our Professional Development Programme, available to all members.
Located less than 300m from Peckham Rye station – MAP

How it works
Open access times: Tuesday to Thursday 10am-9:30pm, Friday & Saturday 10am-8pm, Sunday 11am-6pm (Monday closed)
Maximum usage is 18 hours per week
No shared contracts,
Before membership starts a full induction to the space is given. It's important to read our Terms & Conditions
Each member has a shelved personal storage space (90cm long x 45cm deep x 42cm high) and access to communal storage areas. All other areas of the studio are communal.
Members have access to the following: materials store, work areas, tools, personal storage space, communal firings, potters wheels, plaster facilities, paster lathe, in house glazes, glaze booth, compressed air, extruder, slab roller, cleaning and waste systems, reclaim area & service, tea & coffee station, wifi.
Reasonable use of in house glazes and firings are included in the membership fee. Communal firings are 1000oc and 1260oc only.
Services provided include: onsite technical support, advice on pricing / selling work and a chance to sell work in at least two shows a year.
Free access to our Professional Development Programme which includes: visiting lecturers, artists talks, on-line profile building, business & funding advice.
Pricing
£210: membership per month, rolling contract. Minimum of 2 months.
£1,170: 6 month membership (equivalent of £195 p/m).
£2,220: 1 year membership (equivalent of £185 p/m).
We currently have a short waiting list but please email info@thekilnrooms.com for more info or to be added to the waiting list. You can also call: 077 3203 8052  (11am-4pm, Mon-Fri)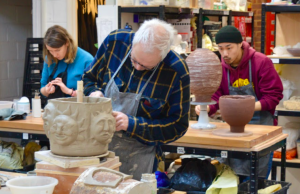 What happens if it gets busy?  The open access principle, whilst limiting usage to a maximum of 18 hours a week, alongside a diverse group of members with different lifestyles ensure that people come and go at different times. We aim to keep this community feel alive whilst not getting too busy. Classes run in the 'class area' of the studio, minimising interference with members. There are a range of classes that can be as valuable to members as to external users.
Community The Kiln Rooms is built on a community premise whereby all members work respectfully alongside each other or together for mutual benefit. Working within this studio model fuels the development of ideas and a broadening of social / professional networks which would not be possible by working in isolation. We nurture this through a range of talks, events, shows and selling opportunities.
The basic practicalities As a member you have your own storage space where you can keep personal items and work in progress. As soon as a piece is ready for firing it goes onto the communal shelves where it returns after being fired by our technical staff. As part of your membership fee you get to use the communal firings and glazes (within reason). There is a well-stocked storeroom onsite selling a variety of clays designed for the communal firing temperatures of 1000oc for Bisque and 1260oc for Stoneware.
Exhibitions and retail opportunities We encourage members to sell their work, so alongside practical advice we host two shows a year, a Summer Show and a Christmas Sale. With a large pool of members and great contacts we are able to draw buyers and businesses from far and wide, opening up retail avenues and helping fund members' ongoing practice.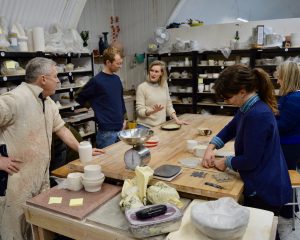 Unsure which membership or course is best suited to you?  Check out this general guide