Address: Unit 202, Level 2, Peckham Town Centre Carpark, 95A Rye Lane, London SE15 4ST
From Peckham Rye station: Exit left and once on Holly Grove turn right. Cross Rye Lane and head towards the 'Peckhamplex' cinema. Veer right down the side of the building, the entrance is 100m on the left. Walk past the door with the 'Come on up' sign and turn left through the door into the ground floor carpark. Once in the carpark you will find a ramp on your left. Press the buzzer to get access and this will lead to a security desk. We are on the second floor.
"
The studio is 300 meters from Peckham Rye station. As well as the Overground it's only 11 minutes from London Bridge or 12 minutes from Victoria by train. There are plenty of bus routes: 12, 37, 63, 78, 197, 343, 363, N63, N343, P12 and P13 and loads of places to lock up a bike.
Driving: Parking on the ground floor location. Access from Cerise Road. On a weekend this can get busy, there is another carpark 5mins walk away on Choumert Grove (SE15 4RB).
Link to Peckham Levels Website
Collection of work: Monday to Thursday evenings 7:30pm-9pm / Mondays, Wednesdays and Fridays 2pm-5:30pm / Saturdays & Sundays 12noon-1pm.
Deliveries: The Kiln Rooms, Unit 202, Level 2, Peckham Levels, Cerise Road Carpark, Peckham SE15 5HQ
Register your interest in our classes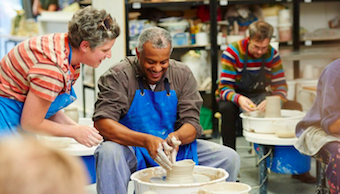 'Occupying the empty levels of a multi-storey carpark, Peckham Levels exists to showcase the cultural talent at work in Peckham. Step inside for amazing food and drink from independent traders, regular events and exhibitions, and to discover some of South London's most exciting artists and independent businesses working in design, fashion, music and ceramics'