Gift Vouchers for taster sessions & taster courses
Our taster session vouchers are perfect for anyone interested in trying their hand at ceramics. Vouchers can be purchased as a gift, or for yourself and are valid for at least one year after purchase. These take place every Sunday afternoon at our Copeland Park studio and once or twice a month on Saturdays.
Taster sessions are for complete beginners and provide an insight into the possibilities of working with clay. We introduce people to throwing on a wheel and a range of hand building skills through demonstrations and plenty of hands on exercises. We then fire and glaze 3-4 pieces of your work, which can be collected around 4 weeks later (it's a lengthy firing process!). We also walk you through other skills such as decorating and providing a good understanding of what goes on in a ceramics studio. Anyone who has completed a taster session with us will gain priority booking access to our longer courses.
Sessions are 4.5 hours long, cost £95 pp and includes all materials and firings, meaning that there are no additional costs. There are between 12-14 people in each class with at least 2 experienced teachers for the group.

5 week taster courses: In weeks 1-4, you will be introduced to different techniques such as hand building, throwing and decorating through demonstrations and plenty of hands on exercises. In week 5 you will be taken through the glazing process and glaze the work you have made. These sessions will be held in the class area of The Kiln Rooms where we create a comfortable, fun environment for everyone to enjoy. No need to bring anything with you as we'll provide all materials, tools, aprons and equipment needed. There are between 10-12 people on a class.
Space on a 5 x week course costs £205 pp, which includes all materials and firings. Classes are 3 hours long and usually held either on Thursday evenings (6:30pm-9:30pm), Friday evenings (6pm-9pm) or Saturday mornings (10am-1pm)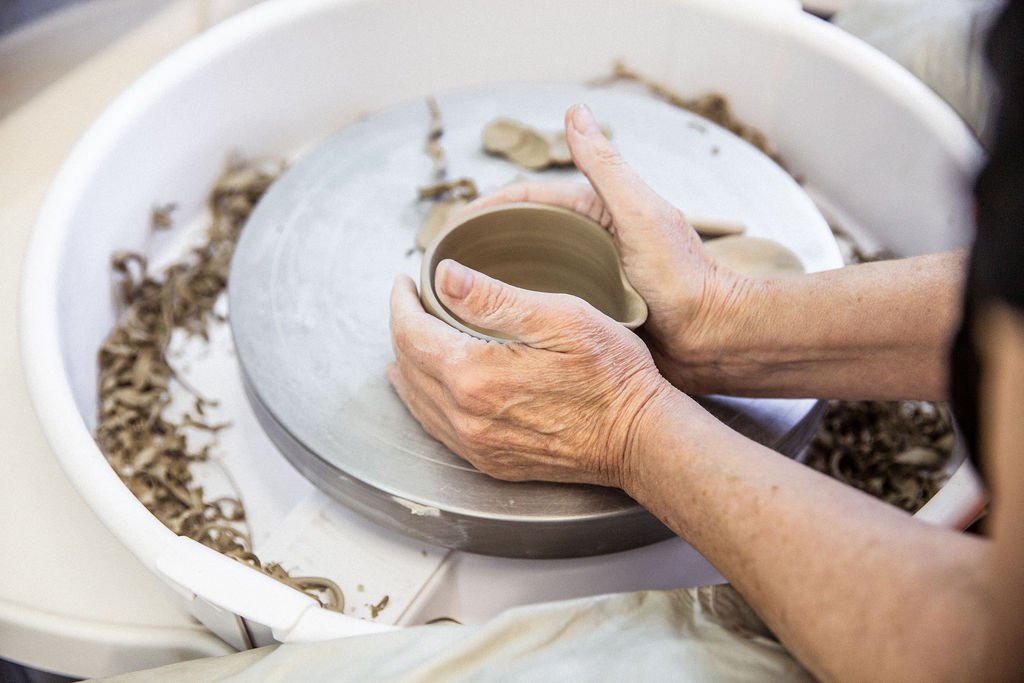 Want to make a day of it in Peckham? There are loads of amazing independent places to eat and drink on our doorstep. Here are some of our favourites
T&Cs 
How to redeem:
Once a voucher has been purchased, you will receive an automated email as receipt and another E-voucher email (which can be forwarded on if the voucher is for someone else), with further instructions on how to redeem. Both emails will include your unique booking reference code.
Taster sessions are for 18+ only.
From date of purchase, there is a 14 day grace period where a full refund (minus £5 administration fee) will be offered,should you change your mind. After 14 days, the voucher will become non-refundable / non-exchangeable.
Once someone is booked into a session, they have 10 days before the session takes place to move the booking to an alternative date. 9 days or later, the booking will be fixed and only a name transfer will be possible.
Vouchers are transferable before the session date, but please let us know who will be taking part by emailing with their name and email address.
Vouchers are valid up until, and including the expiry date displayed on the booking confirmation. Once this date has passed, the voucher will no longer be valid and the voucher will be non-refundable / non-exchangeable. It is the recipient's duty to check and book onto a session before their voucher expiry date.
The Kiln Rooms will do everything they can to accommodate session booking preferences, but hold no responsibility if the recipient is unable to attend any scheduled session before the voucher's expiry date.
Non-attendance:
In the event of non-attendance or arriving late it is not possible to provide alternative studio time, or for a class to be rescheduled. Classes are at fixed times to cover the cost of tuition.  It is not possible to swap classes or use the studio outside of the allotted class times. Sessions are transferable before the start date – please let us know who will be taking your space and their email address.
Positive Covid result:
In the event of a positive PCR or LF test in the days prior to the taster session please send an email to info@thekilnrooms.com with the registered test result. Please do this asap so that we can do our best to find someone to take the space. We will also ask the person who's tested positive to see if they have a friend who would like to take the space, so that it doesn't go to waste. In the event of us not being able to find someone to take the space we will be able to transfer the booking to a future date for a £20 admin fee.
Single Use:
Each voucher has a unique booking reference code and is only valid for use once.
Clay / glaze / firing costs:
Taster sessions: All material costs are part of the session fees, therefore there will be no additional costs.
Collecting work:
You will receive an email informing you when the work is ready for collection, generally 3-4 weeks after your taster session. From the date of this email you will have 3 weeks to collect your work. We cannot guarantee that work won't be damaged in the kiln or not survive a firing. Any work damaged during the firing process is not the responsibility of The Kiln Rooms and any work remaining in the studio after the above cut off times will be thrown out
Disabilities
If you have a disability please let us know before you arrive to the first class.
Health & Safety
It is important that everyone respects all Health & Safety regulations, signage, Kiln Rooms staff / members and local residents. Main points:
The Kiln Rooms cannot be held responsible for any injuries caused through the misuse of the studio or equipment
If you are unsure of anything regarding Health & Safety please ask your teacher or a member of staff
The Kiln Rooms are not responsible for any damage caused to work and are not responsible for any work, belongings or money going missing or getting stolen.