taster sessions & courses
For complete beginners these classes provide an insight into the possibilities of working with clay.
One-off taster sessions: We introduce people to throwing on a wheel and a range of hand building skills through demonstrations and plenty of hands on exercises. We then fire and glaze 3-4 pieces of work that you make, which can be collected 3-4 weeks later (it's a lengthy firing process!). We also walk you through other skills such as decorating, glazing and mould work, providing a good understanding of what goes on in a ceramics studio. Sessions are 4.5 hours long, cost £95 pp and includes all materials and firings, meaning that there are no additional costs. There are a maximum of 13 people in a class with at least 2 experienced teachers.
We are now selling vouchers for one-off taster sessions! For more info and to book please use this link.  T&Cs
5 week taster course: Weeks 1-4 you will be introduced to different techniques such as hand building, throwing and decorating through demonstrations and plenty of hands on exercises. In week 5 you will be taken through the glazing process and glaze the work you have made. These sessions will be held in the class area of The Kiln Rooms where we create a comfortable, fun environment for everyone to enjoy. No need to bring anything with you as we'll provide all materials, tools, aprons and equipment needed.
Space on a 5 x week course costs £190 pp, which includes all materials and firings. Classes are 3 hours long and usually held either on Thursday evenings (6:30pm-9:30pm) or Saturday mornings (10am-1pm) however due to Covid-19 we have reduced the schedule and this may change over the coming months.

Demand for taster courses are high. If you would like to be added to our waiting list please email: taster.classes@thekilnrooms.com
Materials are included in the cost of our taster sessions and taster course, meaning there are NO additional costs. Please make sure that you can attend as many of the classes over a 5 week course as possible. In the event of non-attendance or arriving late to classes it is not possible to provide alternative studio time, or for a class to be rescheduled as our courses sell out.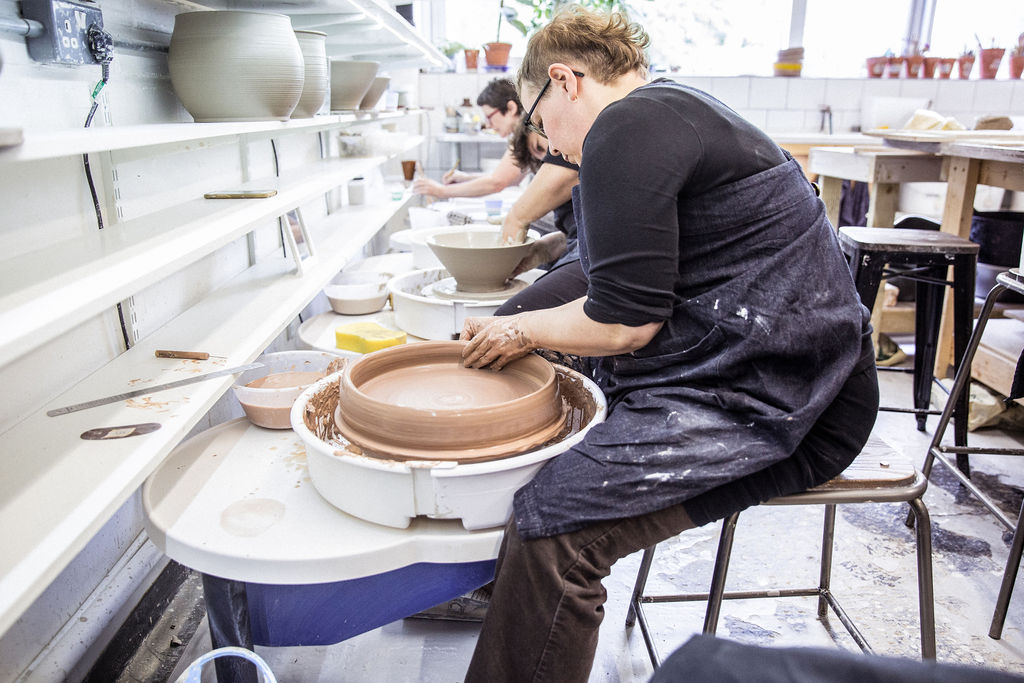 Covid-19 safety measures: We have made a number of changes to the studios to ensure the safety of all users. These include a full redesign of the studios, increasing ventilation, ensuring face coverings are worn in the studios at all times, spacing out equipment where possible, reducing the numbers of makers in the studios (both members and those on classes), installing hand sanitising dispensers, conducting regular risk assessments, introducing new cleaning / clay reclaim systems and we encourage everyone to wash their hands regularly .We also encourage everyone who comes to the studio to take a Lateral Flow Test before coming, which includes our teachers and staff.
In the event of another lockdown we would pause the course and offer either rescheduled classes when we reopen, alternative studio access or a refund of the classes missed. More info
Photos taken pre-Covid