Summer Show 2023: 9th – 11th June members information. 
Copeland Park
The Shows are a great opportunity to sell and showcase your work. We strongly encourage you to invite gallery & shop owners as well as family and friends. If we all use our contacts it can benefit everyone! The Show will take place simultaneously across our Copeland Park and Bellenden Rd studios. 
Main points 
The studio will be closed for working in from 7am on Friday 9th – 6pm on Sunday 11th June. 

 No firings to take place between 9pm on Thursday 8th June – 4pm on Sunday 11th June

People taking part will receive 85% of their sales whilst The Kiln Rooms will take 15% commission on all sales. The sign-up fee for taking part is £20.
The show wouldn't go ahead without everyone lending a hand.  I

f you would like to help out over the weekend please let us know, it's a great way to meet people and keep the studio in good shape.  

Here's the link to the online sign up rota.  There'll also be a printed sign up rota in the studio where you can sign up to help out if/when you're free.
Schedule 
Friday 9th 9am-5pm: Cleaning/tidying/show set-up (Studio closed for work).
Friday 9th 6pm-9pm: 'Private view', everyone's invited.
Saturday 10th: Open: 11am-5pm
Sunday 11th: Open: 11am-5pm. 4:30pm-6:30pm: take down, collect work. 
Space in the studio 
You can fire right up to the sale, however we strongly advise that you have completed any work at least two weeks before. 

By Wednesday 7th June please ensure that you have cleaned and tidied your personal storage area. We use the sales as an opportunity to deep clean so any work / materials which are not in your personal storage space could be cleared. 

A considered selection of your work must be brought to the studio no later than 8pm on Thursday 8th June. Work brought in after this will have to be displayed in your personal storage area. 

If you are not around during the week prior to the sale please clearly leave a note on your shelf with any instructions for staff, including what you would like to be in the Show and what should remain in your storage area. 
Pricing 
Please see our guide to pricing below. If you have specific questions you can either email us photos of your work, speak to a member of staff or attend our 'pricing' session: Wednesday 24th May at 3pm, held in the class area at Copeland Park.
Money & practicalities 
Your name (initial of first name and surname) and the price must be on every piece of work (we provide stickers). Any additional information/contact details/blurbs should be easily accessible on your storage space. 

Taking part: £20 must be paid before 12noon

on Friday 9th June. To sign up please use this link 

(we have had to increase this to £20 due to rising costs.)

FiredUp4: Previously we have given members the option of 'opting-in' to donate a further 5% of their takings, which we have then matched. This year however we are aware that every penny counts, so instead of asking members to contribute any more from their sales we will instead donate one third of The Kiln Rooms commission to FiredUp4, which works out as 5% of all Sales. For those of you who may like to donate a little more you can do so through the FiredUp4 website.

Payments: if you sell work you will be emailed the week after the sale with details of how to get paid. We'll ask for your bank details to make a BACs transfer. 

All sales go through the front desk and we ask that people not manage their own payments onsite. 

Unfortunately, during open studios there can occasionally be thefts. We ask everyone to be vigilant and always have an extra couple of people on the rota to minimise the likelihood of this happening. We recommend that you keep a record of the work you put into the sale. 

Pricing of work: It's important that there is consistency throughout the studios. If you are unsure please speak to a member of staff or Shane (and please don't undersell yourself!) The Kiln Rooms reserves the right to remove any work in the sale if it's deemed to be undervalued or impacting on the pricing strategy. 

On Friday 9th drinks will be free for all members and staff (those taking part and those not), £1 for those on our classes or ex-members and £2 for anyone else.

We supply biodegradable bubble wrap, wrapping paper and paper bags. 
 Promotion 
The Kiln Rooms will advertise the Sale through social media, emails to our contact list, press, etc however we ask for members to get involved as much as possible! Please take photos, get creative and make your own promotional materials / content, we're happy to re-post and share it. 

If you would like to be added to the members page on our website please send 1 

square photo of your work and a link to your website or social media page which features your ceramic work. http://www.thekilnrooms.com/members-work 
The Kiln Rooms are not responsible for any damage caused to work and are not responsible for any work, belongings or money going missing or getting stolen.
---
Pricing
Here are a few examples to help:
£10-£20: Small gifting items (badges, Xmas decorations)
£20-£30: Beakers, small cups, side plates
£30-£40: Mugs, dinner plate, cereal bowl
£30-£60: Small jug, pasta bowl, cheese plate, lidded jar.
£60-£100: Water jug, vase, serving plate, smaller decorative items.
£80-£300: Decorative homewares including large vases, bowls and plates
Things you need to know: Current market / competition / demand – Is it functional / decorative / art?
Rough guide to minimum pricing
This is a simplified pricing guide but the market will dictate the value of functional or semi-functional works. If after following the below example you cannot compete at the market value you must re-address your production method.
Materials cost: Over estimate if you're unsure and include materials carriage cost
Clay – (e.g 1kg of clay in a 12.5kg bag @ £12.50 per bag = £1 per pot) 

Glaze – (e.g 10kg of glaze costs £40 and would glaze 40 pots so one pot costs £1 to glaze). 

Firing – (e.g one firing costs £40, kiln takes 40 pieces = £1 per piece)
Add together and multiply by 3. This accounts for time spent ordering materials, making up glazes and processing clay.
Total materials cost: £3 x 3 = £9
Studio rent: Include any general electricity/gas/service charge etc (e.g £300 per month times by 12months = £3,600 per year divided by 52 weeks in a year = £70 per week)
If you do 40 hours a week that's £1.75 per hour.
Wage: £20 per hour is standard. 
Add this to your studio rent per hour = £21.75 per hour of work.
Example of this one piece:
Materials
£1 clay, £1 glaze, £1 firing x 3 = £9
Hours of work (Wage & studio rent)
2 hours work @ £21.75 per hour = £43.50
Total: £9 + £43.50 = £52.50
That means £52.50 wholesale (round to a whole pound or fiver) Retail = £105
This is a very basic example! Not to be taken literally. Plenty of variables including; how experienced you are, how quickly you work, is it functional / decorative, what the competition / demand is, price of creativity etc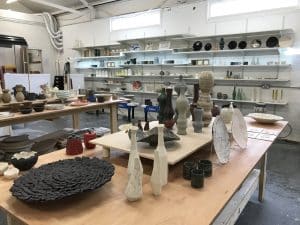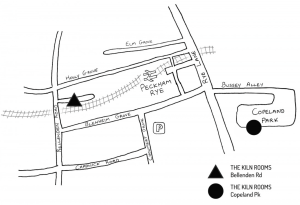 Copeland Park Studio / Bellenden Rd Studio
There's loads to see and do in Peckham and here are some of our favourite local places to eat and drink.