examples of private sessions
We have the staff, materials and equipment to host a range of sessions and activities. Below are examples of two of our most popular private sessions with an idea of fees, there are also answers to FAQs.
Full-taster session: This is our most popular session as it provides a great introduction to ceramics. Everyone has about 2 hours of throwing on the wheel and around 2 hours of getting to grips with a range of hand building skills, with demonstrations and support from our teachers. After the session we glaze and fire 3-4 pieces from each person that can be collected around 3-4 weeks afterwards. It's similar to our 'one-off taster session': more info The session can be between 4-4.5 hours in length and costs around £100 pp depending on how many people are in the group. All prices include materials, firings and VAT, so there are no additional costs.
Throwing session: For people who are interested in a shorter session and would like to ficus on the wheel. Ideally it would be 2.5-3 hours in length and after the session we glaze and fire 2-3 pieces from each person that can be collected around 3-4 weeks afterwards. Cost around £90 pp. All prices include materials, firings and VAT, so there are no additional costs. We can't host as many people on a purely throwing session, the max we could have in a studio is 12 at a time.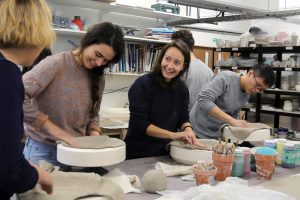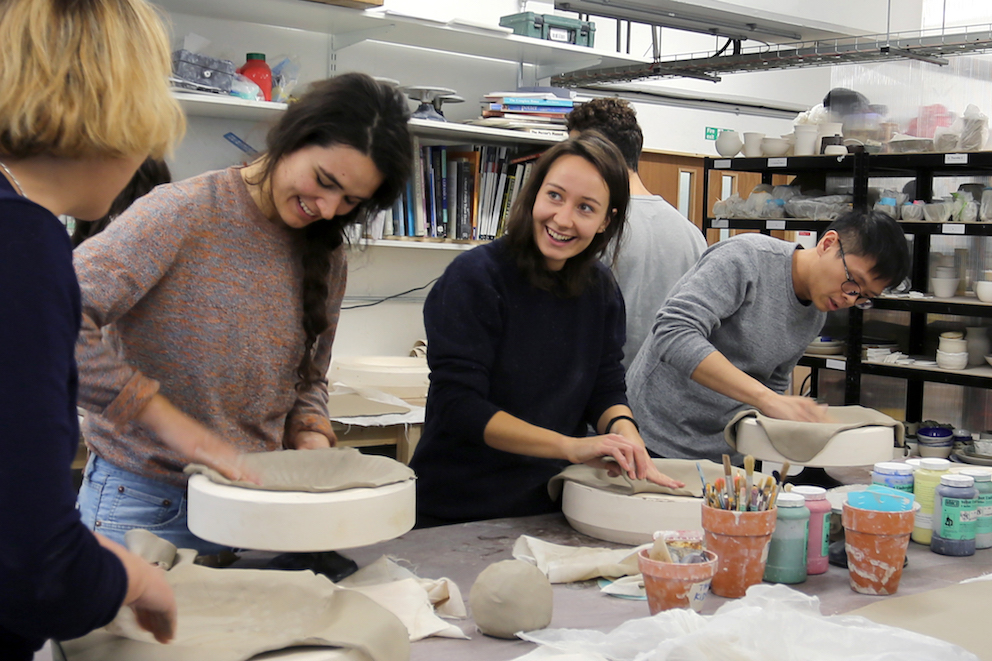 Availability:  It depends on the size of the group and the length of the session, however as a general rule we have availability; Fridays & Saturdays after 2pm and Tuesdays & Thursdays during the day, finishing by 5:30pm.
Numbers and capacity:  The maximum we can host in a studio is 22 people, however our studios are only 5mins walk from one another, so we can host a group of 22 in one studio whilst simultaneously hosting a session for 16 in another studio, so the total number of people could be 38 people. We are open discounts when more than 18 people book a session. The minimum group size is 5 people. We can host sessions for 4 people or less but prices would increase significantly per person.
Food & Drink:  You are free to bring food / drink to the session, however we recommended that if you want any substantial food your group book somewhere to eat as our class areas are not geared up for a sit down meal. We are based in the heart of Peckham, where there are loads of great places to eat & drink. Here are some of our favourites
Timings:  Our 4 – 4.5 hour session might feel long but we build in a 10-15min break half way through and time flies! It's also possible to have a longer break for lunch and some groups prefer the following schedule: morning session 10:30am-12:30pm, break for lunch 12:30pm-2pm, afternoon session 2pm-4pm.
Collecting work:  Work is generally ready for collection between 3-4 weeks after the session has taken place. It's a lengthy process as all the work must fully dry before being bisc fired, then glazed, then fired a second time before finally being wrapped and packed. We will send an email when it's ready to collect. Each person can collection their own work from the studio or you could arrange an Uber to collect the bags all together and drop them off somewhere.

T&Cs
Payment:
An option of  paying a £500 deposit or paying the total amount up front is given. If a £500 deposit is taken, the remaining amount must be paid no less than 3 weeks before the session date.
Changes to group numbers:
There is flexibility with regards to  group numbers up to 2 days before the session. If there are 12  people or under, we can add or remove 1  person. 13 people or over, we can add or remove 2-3 people. If there are 8 or under we will have to stick to the original number booked in. The earlier we know about group number amendments the better.
Other amendments:
Changes to the length of a session can be made 3 weeks before the session date.  A longer session or more activities will incur additional cost. Any minor changes to an  itinerary can be made up to 2 days before the session. Minor changes shouldn't affect the agreed hire cost and request to amend timings or itinerary should be made as soon as possible.
Non-attendance :
In the event of non-attendance or arriving late on the day,  it is not possible to provide alternative studio time, or for the hire session to be refunded wholly or partially. Hire sessions are at fixed times to cover the cost of tuition, materials and space hire.  It is not possible to use the studio outside of the allotted hire time. 
Cancellation:
Once the full amount has been paid (3 weeks before the session), a hire session will be fixed and cancellation with a full refund will not be possible. If a cancellation is made with 3 weeks or less notice, £500 deposit will be kept and a refund for the remaining amount issued.
Rescheduling:
Up to 3 weeks before, a hire session date can be rescheduled. Rescheduling the date of a hire session is subject to studio space availability and as much notice as possible should be given. 
If a request to reschedule is made with 3 weeks or less notice before the initial date booked, a new date will be discussed but cannot be guaranteed. The cost of hiring the studio space on the initial date plus the teachers tuition fee  will be additional to the total cost of the rescheduled hire session. 
Clay / glaze / firing costs:
All material costs are included in the session fee. There will be no additional costs, unless you have been in contact to book a supplementary glazing session. 
We base firing and material costs on each person making  3-4 pieces of work each, this can be changed if specified beforehand when arranging a quote. 
Collecting work:
You will receive an email informing you when the work is ready for collection, generally 3-4 weeks after your session. From the date of this email you will have 4 weeks to collect your work. We cannot guarantee that work won't be damaged in the kiln.
It is possible to arrange for all the work to be delivered to a specific location together. We recommend that you book an Uber (or other delivery/courier company) and we can help load the work at the studio.
Any work damaged during the firing process is not the responsibility of The Kiln Rooms and any work remaining in the studio after the above cut off times will be thrown out or donated.
Disabilities
If anyone in the group has  a disability please let us know before you arrive to the session.
Health & Safety
It is important that everyone respects all Health & Safety regulations, signage, Kiln Rooms staff / members and local residents. Main points
The Kiln Rooms cannot be held responsible for any injuries caused through the misuse of the studio or equipment

If you are unsure of anything regarding Health & Safety please ask your teacher or a member of staff

The Kiln Rooms are not responsible for any damage caused to work and are not responsible for any work, belongings going missing or getting stolen.