Available classes 
Here's what we have coming up. The course schedule is constantly changing, so if nothing suits you right now you can check again in a few days/weeks time. If you would prefer evening classes please email: courses@thekilnrooms.com to register your interest.
5 x week taster course:  Fridays, 6pm – 9pm, 6th October – 3rd November.  For more info & to book click this link
5 x week taster course:  Thursdays, 6.30pm – 9.30pm, 12th October – 9th November.  For more info & to book click this link
5 x week taster course:  Saturdays, 10am – 1pm, 21st October – 18th November.  For more info & to book click this link
To check out available 5 week taster courses & one-off taster sessions click this link
12 week courses: People of all abilities are welcome to join. Although these are aimed at developing beginner's skills, we will tailor to everyone's capabilities. Over the first 4-5 weeks everyone covers basic techniques such as throwing on the wheel, hand building, mould work, decorating and glazing. After this you are encouraged to develop your own projects and ideas with the support of the teacher and others on the course. Cost: £340. There is a small 'firing' charge of £5 per 1kg of fired work, which works out at approx £1 for a mug.
5 week taster courses: In weeks 1-4 you will be introduced to different techniques such as hand building, throwing and decorating through demonstrations and plenty of hands on exercises. In week 5 you will be taken through the glazing process and glaze the work you have made. The cost of a course is £205 and includes all materials and firings.
If these dates don't work for you we have 'gift vouchers' available. For more info please use this link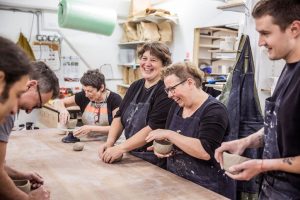 Please make sure that you can attend as many of the classes over a 12 or 5 week course as possible. In the event of non-attendance or arriving late to classes it is not possible to provide alternative studio time, or for a class to be rescheduled as our courses sell out. Unfortunately we do not sell vouchers for these courses.
Evening courses are in demand and we have a waiting list. If you would like to be added to our waiting list please email: courses@thekilnrooms.com
Everyone enrolled in a 12 week course can book onto our 'drop-in' sessions. This provides you with additional studio time. More info here. Courses take place in one of our 3 studios Peckham Levels / Copeland Park / Bellenden Road this will be confirmed when booking. Morning courses take place 10am-1pm and evening courses are either 6pm-9pm, 6:30pm-9:30pm, 6:45pm-9:45pm or 7pm-10pm. Monday classes do go ahead on Bank holidays.

Want to make a day of it in Peckham? There are loads of amazing independent places to eat and drink on our doorstep. Here are some of our favourites