Peckham Levels is now open as normal. All classes and drop-in sessions are going ahead as planned.
If one of your classes was cancelled between 10th-13th February you can do one of the following things to make up for it:
Get a refund for the missed class. (you will have been emailed)
Free access to a drop-in session. We have a list of everyone eligible for a free drop-in, so just show up and speak to a member of staff. more info
We apologise for any inconvenience caused and hope that this hasn't disrupted any timelines with regards to work you were making.
If you have any questions please don't hesitate to get in touch: info@thekilnrooms.com
Link to Peckham Levels Website
"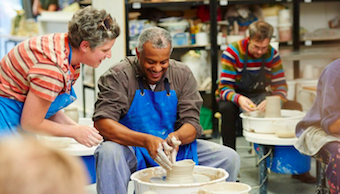 'Occupying the empty levels of a multi-storey carpark, Peckham Levels exists to showcase the cultural talent at work in Peckham. Step inside for amazing food and drink from independent traders, regular events and exhibitions, and to discover some of South London's most exciting artists and independent businesses working in design, fashion, music and ceramics'