Professional Development Programme
We provide a wide range of talks and demonstrations from invited guests covering all aspects of professional practice. We organise talks, demonstrations or show & tells roughly every 3 weeks in the studio. No need to book, it's free for members, £3 for students / those enrolled in our classes / London Potters members, and £5 for non-members. All talks / demos take place at our Bellenden Road studio.
Coming up:
Friday 19th Jan: Tanya Gomez (this talk is programmed by London Potters, so non-members of The Kiln Rooms will have to book through London Potters)
Friday 23rd Feb: Heidi Harrington (this talk is programmed by London non-members of The Kiln Rooms will have to book through London Potters)
6:30pm Friday 23rd March: Richard Pthethean
Yvonna Demczynska date TBC early 2018
Gregory Tingay date TBC early 2018
Luke Eastop date TBC 2018
Hugo Wilson date TBC 2018
Previous talks / demos have included: Felicity Aylieff, Anna Barlow, Sally-Jo Bond, Dylan Bowen, Jane Bustin, Stuart Carey, Carina Cascato, Robert Cooper, Jo Davies, Florian Gadsby, Emily Gardiner, John Higgins, Akiko Hirai, Duncan Hooson, Amy Hughes, Tom Knowles Jackson, Helen Johannessen, Chris Keenan, Robin Levien, Billy Lloyd, Rosanna Martin, Malene Rasmussen, Adam Ross, Julia Schuster, Ester Svensson, Nicola Tassie, Chris Taylor, Louisa Taylor, Ian Thompson,
Working practice
For the reputation of the studio and its members, best practice will be implemented and taught throughout. Working with this in mind and having it instilled by staff will ensure the professionalism of members and their readiness for 'real world' situations. Working in this way encourages respect from peers and professionals alike and sets a strong president for a career. Key areas we focus on include:
Portfolio. A strong portfolio is increasingly important. Often key for selling to clients or applying for employment / higher education, a selective, well presented portfolio will set you apart from other candidates. The Kiln Rooms staff have extensive experience in managing and developing portfolios. We will have examples and resources on site to help members decide how best to present their work.
Commission work. As much of The Kiln Rooms staff will comprise of practicing ceramists working on a number of projects, there will be many occasions where members may be employed to assist them. This may also lead to members taking on projects themselves or collaborating with staff. Many possibilities are regularly sent in the direction of staff, who will offer jobs they are unable to complete to suitable members as a first point of contact. Staff will oversee such projects and help where necessary.
Show development. The studio will host two members shows a year, a summer show and a Christmas sale. Members will be heavily involved in their set-up and management. As well as building, invigilating, processing payment and take down they will also be driving the promotion. The shows will provide key opportunities for early career ceramists to gain experience in retail and for all members to support their studio fees through sales and potential work prospects. This will be lead by The Kiln Rooms team.
Pricing. Pricing work is notoriously difficult and can be an important decision in the career of a ceramist. The Kiln Rooms will advise members, encouraging them to reflect on questions regarding production processes, time and skill etc.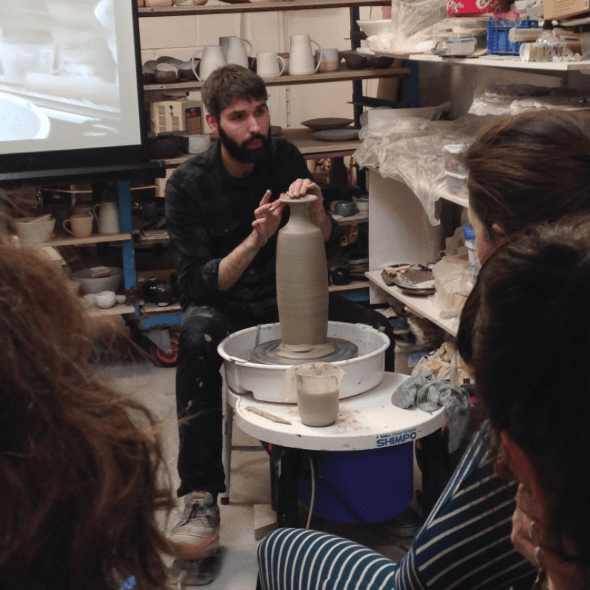 Information
The Kiln Rooms aim to provide a strong informative framework for members looking to develop their practice into a business. We provide support and advice on a range of areas including:
Funding & fund raising. An important question in beginning any new project is; 'how can I fund this?' There are several options at one's disposal and they each have their intricacy's. The Kiln Rooms will keep an up to date archive of tried and tested methods and a simplified guide to applications of varying types.
Marketing & online profile Every individual's needs are different and bringing anything to market is difficult. Our set of basic guidelines and important questions to ask oneself and potential retailers is a good starting point. Members will be encouraged to adapt these guidelines appropriately to gain an understanding of how best to market their work. More so than ever an online presence is an important consideration to any maker. Whether anonymity would suit you best or whether a viral strategy is key to your desired outcome, The Kiln Rooms guide can help members to consider correct use of technology and how to build and maintain a reputable online profile.