Masterclasses are led by experienced ceramicists who are experts in their field. Numbers are limited (between 4-7) and it's for intermediate / advanced level ceramicists only.
Throwing & decorating weekend with Chris Taylor: 9th & 10th September (2pm-7pm on Sat & 11am-4pm on Sun) (£180) – 1 space remaining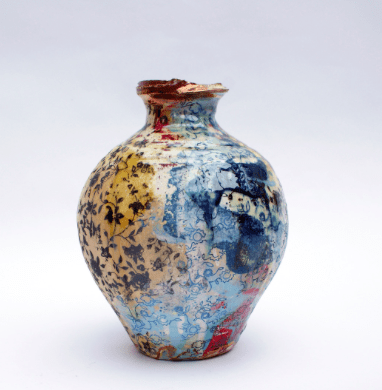 "Over the two days we will explore various ways of generating and applying layers of surface pattern to an unfired clay surface similar to way in which I work within my own studio. On day one I will show you how to create a square sided lamp base using a combination of throwing and slab building techniques before moving on to create some tissue transfer prints using pattern work from my own source material although there will be an opportunity for you to produce your own imagery. On the second day we will use the prepared materials to decorate, building up layers of surface decoration using stencils, slips and tissue print to create layering similar to that seen on my work. During the weekend I will talk you through the whole processes I use to make and decorate whilst any additional time can be used to improve throwing skills."
Intermediate / advanced ceramicists only. You will be able to biscuit fire a limited amount of work, which is included in the fee.
To book please get in touch (Terms & Conditions)
We aim to run masterclasses on a range of areas including; throwing, mold making & slip casting, hand building, glazing & decorating. Courses will only go ahead if we feel there is a demand, so if you are interested in a particular skill or activity please let us know.