Drop-in studio access 
Providing people who are enrolled on our 12 week courses with more studio time. Starting in our Peckham Levels studio early April 2019.
We are expanding our Peckham Levels studio to provide those on our courses with the option of additional studio access, outside of class hours. Perfect for people who would like to get more involved but would not be able to me the most of membership to a studio. Although there won't be a teacher onsite there will be a technician who can answer questions and advice on best practice. We would recommend that you feel comfortable working independently. This also provides flexibility as you only pay when you come to the studio and don't need to book in advance! £20 allows a maximum of 5 hours access on a particular day. To start with we'll be opening our doors Monday, Wednesday and Saturday 12noon-5pm. People doing a 12 week course at Bellenden Rd are more than welcome to attend these.

How it works
Cost: £20 a session, to be paid on arrival (cash & card accepted). 1 payment cannot be split over several sessions, and whether you stay for 5 hours or 30mins the fee is the same.
No need to book, just come along whenever you like during the open access times. Just taking place in our Peckham Levels studio: map
Open access times: Mondays, Wednesdays, Saturdays 12noon – 5pm. Clean-up starts at 4:45pm.
You must be registered on a current 12 week course to attend and on your first session will have a 5 minute induction of the space. It's important that you are comfortable working independently.
You'll have access to the following: aprons, work areas, tools, potters wheels, a range of clays, plaster facilities, in house glazes, extruder, slab roller, cleaning and waste systems, reclaim area & service, free tea & coffee and wifi.
Any work fired will be charged at the standard rate of £5 per 1kg.
You can use the shelving space of the course you are enrolled on and there will be additional temporary communal storage.
There will be onsite technical support, however unlike during a class there will be no demonstrations.
We will be contacting everyone who is on our 12 week courses early March with more details and a start date.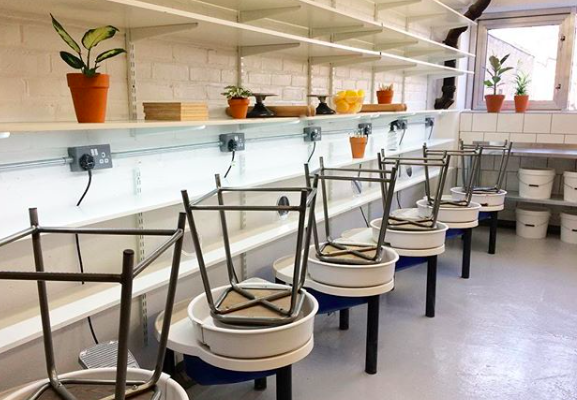 For more information please email: info@thekilnrooms.com