Copeland Park Studio
This studio acts as a stepping stone for people who might have out-grown the 'open-access' model but are not quite ready to work in isolation. The studio gives makers space, time and independence whilst also providing regular technical support and keeping a strong sense of community. Any classes are held in a completely separate area to the members studio and has a separate entrance, so there's no disruption. If you are interested in learning more or being put onto the waiting list for membership or classes please email: info@thekilnrooms.com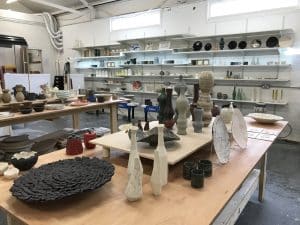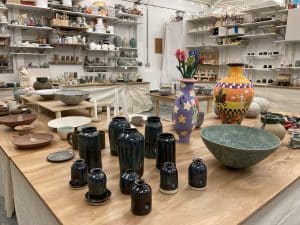 We have recently moved into a larger studio within the Copeland Park site. It's the perfect unit for a ceramics studio and we're pleased to be securing our place amongst the amazing community that makes up Copeland Park and Peckham.  Studio location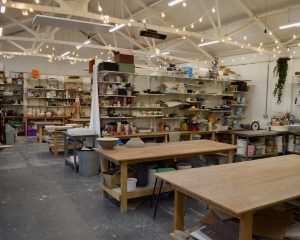 Access anytime between 7am-11pm, 7 days a week with no limit on usage (each member is a key holder)
In depth induction and training, including kiln packing, glaze-making and best practice studio management. It's important to read our Terms & Conditions
Storage space: approximately h240cm x w80cm x d45cm, there is also a large amount of communal storage.
Communal wheels, workbenches, glaze area and other equipment.
Members have access to the following onsite: work areas, tools, personal storage space, firings, a range of potters wheels, glaze booth, compressed air, extruder, slab roller, cleaning and waste systems, reclaim area, tea / coffee station and wifi.
Services provided include: technical support, mentoring, tutorials, plaster facilities, materials store and a chance to show / sell work in at least two shows a year.
Free access to our Professional Development Programme which includes: visiting lecturers, artists talks, portfolio development, on-line profile building, business & funding advice.
Pricing
Monthly rolling plan: £290 per month (minimum of 2 months).
6 month plan: £1,620  (equivalent of £270 p/m)
12 month plan: £3,120  (equivalent of £260 p/m)
A £300 refundable deposit is required. Rolling plan is a minimum of 2 months and all plans require 2 month notice to cancel membership. Firings & materials are not included and will be charged at cost price. We stock a range of clays and glaze materials at our Bellenden Road studio, which is a 5mins walk away.
More information can be found in our Terms & Conditions

Please email info@thekilnrooms.com for more information or if you are interested in visiting the studio. You can also call: 077 3203 8052 (11am-4pm, Mon-Fri)
Unsure which membership or course is best suited to you?  Check out this general guide