Classes
There will be a range of classes available to book over the coming weeks. Stuart Carey will be giving a Masterclass on throwing on Sunday 24th Jan (11am-5pm) Info. The March taster course (info) and One-off taster sessions in February (info) are now fully booked and our 12 week beginners / intermediate courses starting in March (info) will be available soon…
Professional Development Programme
Professional development talks/demonstrations take place every other Thursday in the studio. The first of 2016 will take place on Thursday 14th January with our very own Adam Ross. Then on Thursday 28th we are pleased to welcome Amy Hughes. Details coming soon.
We are currently finalising the programme for the coming months which will include by a number of artists and ceramists with a broad range of experience and skills. More info

Other news from the studio
After the success of the Christmas Sale we have decided to develop a way of making it easier to buy work made by members. We are also exploring the possibility of creating a 'Kiln Rooms tableware range', using our platemaker. These are early days, updates coming soon…
We are set up to host a range of activities & events either during the day or in the evening. From team building days to group workshops, from photoshoots to corporate events… More information
We have a number of photos from the Christmas Sale and Christmas Party on our social media sites. If you took any that you don't mind us using please send them our way.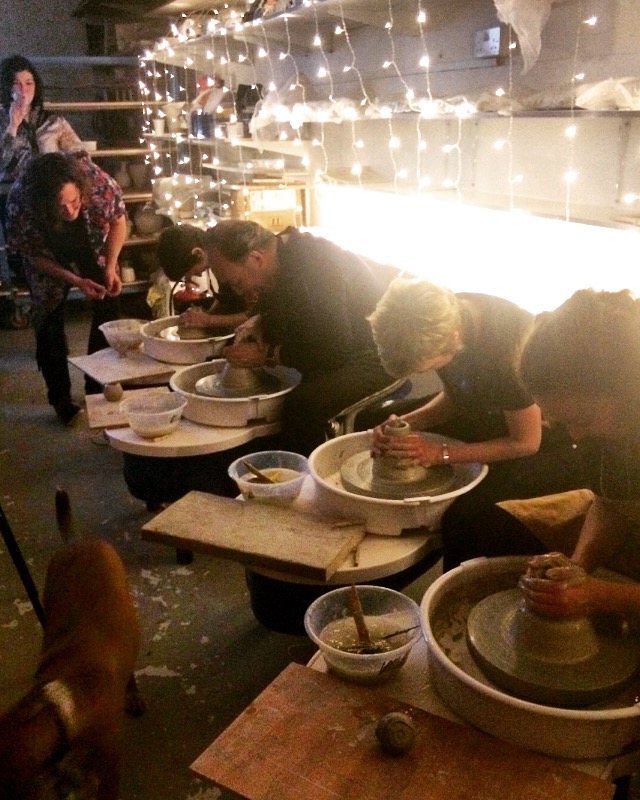 Just some of the contestants during The Kiln Rooms Christmas Throw Down
Sara, Keith and Kate – taking things seriously!